Our Products
The company's reputation as India's largest and most advanced machine manufacturers grew from its capability to tackle many crucial problems encountered by giant Tyre companies and polymer processors .
Mixing Mills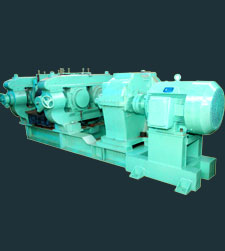 The Mixing Mills that we manufacture are made of chilled cast iron rollers with a good surface hardness. In our machines, the rolls are cooled by water and heated by steam inside. The stands and apron of the mill is steel fabricated. The bed construction is common, single steel gudder and steel bedplate fabricated. The bushes are of phosphorous bronze and the bearings are anti friction roller bearings. We use force-feed lubrication motorized pump for the recirculation of oil in brass and make use of manual grease pump for the lubrication of anti friction roller.
Sizes:
14" x 36"
16" x 42"
22" x 60" and 26" x 84"
Cracker Mills
Cracker Mills manufactured by us are equipped with Anti Friction Roller Bearings and are made using High quality Raw materials which brings down the maintenance cost to almost NIL. These rubber Cracker Mills give High output at Lower Operating Cost. Considering the multi millions of tyres disposed of every year in all countries significant recycling opportunity exist for investors to earn dividends. More & more large volume uses are emerging for end products made from rubber, steel and textile derived from recycling tyre
Sizes:
18" x 24"
21" x 24" x 36"
Refiner Mills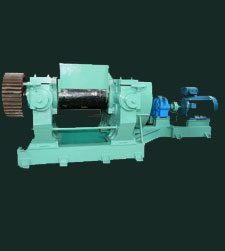 We offers - refiners for close nip refining of Reclaim rubber or other compounds. Tailing knieves, Scrappers, Wind-up can be supplied optionally with each machine. This quality material in crumb/reclaim form is capable of performing numerous task once applied to a variety of end products like tiles and tile adhesives, mixing with asphalt, sports surfaces, carpet underlay, noise and vibration insulation, playgrounds and matting. Rubber crumb/reclaim is used in new tyres/tubes, devalcanisation for low-tech pressed or extruded rubber products, tread rubbers, belting, battery containers, moulded item, commercial flooring and plenty more.
Sizes:
21" x 24" x 36"
Hydraulic Press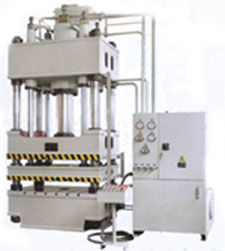 Hydraulic Presses are the machines in which rubber compound and other materials are shaped as finished products. As are the machines, so are the finished products. Ranging from 50 to 2500 Tons, theses Presses are manufactured with operation safety and optimum machine production in mind. Controls and hydraulic system are perfectly matched to ensure complete customer satisfaction.
Sizes:
18" x 24"
26" x 36"
65" x 48", 80" x 54" and 120" x 65"
Pre-cured Press

We offer Pre-cured Presses in single and double-side frame design. Our press is well known for its reliability, high productivity and its excellent accessibility. Our presses have hydraulic pumping unit in compact design that include electrical control. Our high performance machines are reliable, low maintenance and heavy duty. We offer it at a very competitive price. The benefit of our pre-cured treaded press is that it can work round the clock.
Sizes:
12 Feet
24 Feet and 40 Feet – 12192 mm x 600mm x 75mm / 12192 mm x 457mm x 75mm
Crepe Mill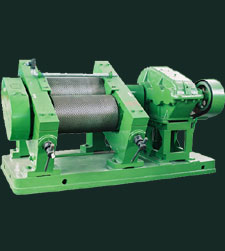 The common denominator of Crepe rubber is the Creping Mill. Process stages before and after the creping mill determine the grade specifications.
Sizes:
26" x 18"
24" x 16"
24" x 15"
Grinding Mill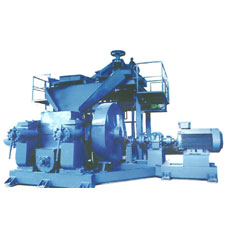 The roller grinding mill is capable of grinding the shredded tyre pieces into powder form. Having a different capacity varying from 300Kg to 800Kg/hr and powder from 75HP to 150 Hp. The two rollers made by chilled CI casting is capable of withstand any hard rubber. The automation system for the machine is also can increase production and reduce man power. Both the roller are cooled by the water circulation system. Since the RPM of the machine is very low there is no heat generation and maintain quality of power.
Size:
18" x 24"
21" x 24" x 36"
Bale Cutter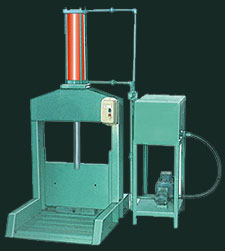 Rubber Bale Cutter is used to cut bales of rubber in different sizes. The machines have rollers that ensure the easing of the movement of bales. We have both, semi and fully automatic cutters. These are suitable for the toughest natural and synthetic rubber bales. The inclined cutters are fed with continuous bales and the cut steel alloy blades them into pre determined size of selected thickness and even are automatically discharged. The benefits of our machines include high precision, better quality cutting and higher productivity besides low maintenance cost. It cuts both natural as well as synthetic rubber bales.
Hydraulic operated Bale cutter 2 Ton Capacity with 5 HP Power Pack
Extruder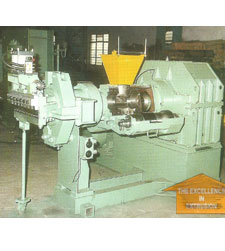 Hot feed screw type Extruders are heavy-duty machines built to suit individual needs. They are made in many different type and sizes to meet the production requirements for straining, extruding, tubing, slab production or contoured shapes. The extruders size depends upon the hourly output required and method of feeding and with a complete line of equipment is available to meet with all customers need.
Sizes:
5"
6"
8"
Calender Machine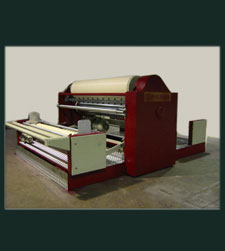 Perumacheril Casting Industries with decades of expertise in design and production of rubber processing machinery gives precise CALENDERS designed to handle a variety of products. Like sheeting for lining, hospital bed sheets, films, frictioning of tyre fabrics for Bicycle/motor cycle /Auto tyres, hoses beltings, profiling, Cushion gum, single coating, laminating doubling etc. Special Calenders for profiles & Inner liner can be offered. .
Sizes:
6" x 18"
8" x 30"
Tyre Cutter and Debeader Machine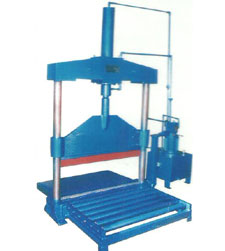 The hydraulic tyre cutter is capable of cutting the whole tyre into 4 to 10 pieces and also remove the centre steel beading. Suitable for cutting the radial tyre also. An average of 10to 20 whole tyre can cut in an hour .fitting with a strong straight cutting blade, hydraulic up and down stroke system and powered by a 5HP motor. A circular blade system also available by making the whole tyre into 6 pieces and also remove the steel in single stroke.
Sizes:
5' x 3'